Regular Slotted Container - Industry: Automotive
Opportunity
Our customer was looking for a solution to a problem they were having with their expendable packaging. The automotive manufacturer ships replacement parts to automotive dealerships in order to repair vehicles that require a new bumper cover. They found the expendable packaging was failing their product while in transit. Tens of thousands of bumper covers were being damaged due to poor product protection. This posed a significant obstacle. We were asked to develop a box that would effectively protect the bumper covers in order to remedy this problem.
Rolled End Tucked Front - Industry: Pharmaceutical
Opportunity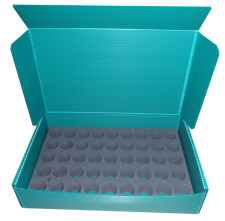 Our customer was shipping glass vials and experienced one incident with product damage; one vial cracked in transit. With that being said, being that it is the pharmaceutical industry, FDA regulations dictate their process. This leads them to search for effective product protection. We were asked to design a returnable package that would protect the glass vials from damage moving forward.
Plastic Corrugated Envelope - Industry: Industrial
Opportunity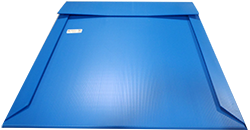 This opportunity presented a unique situation. The customer came to us with a problem that needed a returnable packaging solution. Like most manufacturers, steel manufacturers have samples that they present to their customers. The sales team needed a "sample carrier" so the steel can effectively be taken out in the field. Due to the nature of the product, the returnable packaging needed to be durable and also have the capability to accommodate large pieces of metal with very sharp edges.
Custom Sleeve with Pallet - Industry: Automotive
Opportunity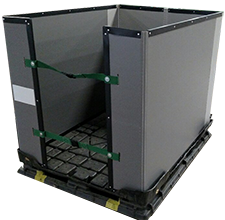 Our automotive industry customer recently switched from a custom sleeve that we did adapt for them utilizing expendable packaging. We VERY rarely utilize cardboard in our applications. The sleeve that is pictured was originally made out of cardboard. Due to a change in their supply chain needs, we were pleased to convert their expendable sleeve into a tri-laminate plastic corrugated sleeve.