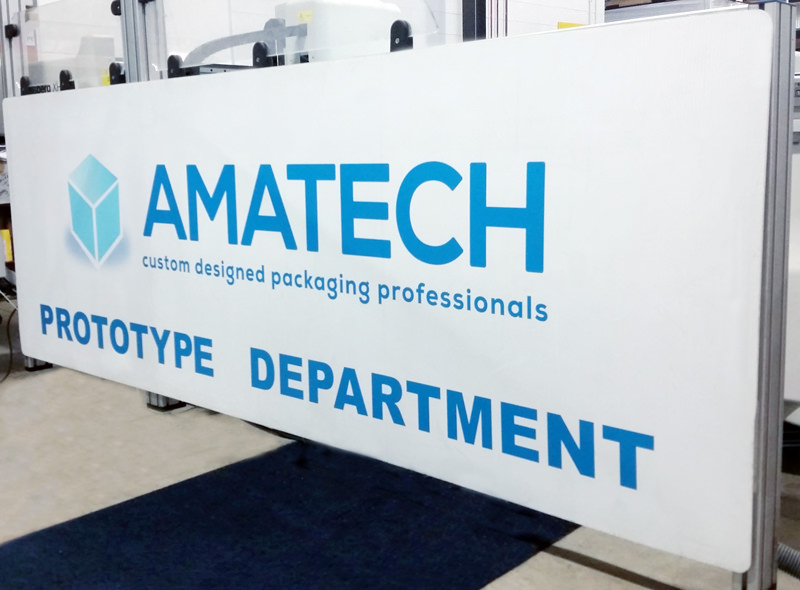 Amatech provides its customers with top notch returnable package design and prototype services. Our experienced engineers can take your new or current project and design returnable packaging to meet your needs. Our staff will work with you to identify and design the best product for your environment in the most cost effective way. We have a dedicated Prototyping department so your sample is designed, created and shipped quickly.
We can design a proposal using our 3D design capability or our many modeling features that will give you a virtual picture of the returnable packaging product. In addition, we can also produce a fully functional returnable packaging sample that will meet your specifications and give you an exact duplicate of what you would receive from a quantity production run. Our CNC tables are capable of cutting paper corrugate, plastic corrugated, and many other types of foam materials.
We respect your time and requirements, and offer a Quick-Quote and Quick-Prototype policy which assures a 48 to 72 hour turnaround for most prototype and pricing requests. With or without a returnable packaging prototype, Amatech will provide you with excellent service.
We officially offer 3D printing prototyping capabilities for package prototypes! Save time, money and manpower by using this new helpful tool that Amatechoffers.
Amatech CAD Capabilities:
ArtiosCAD 7.4en (*.ard; *.A3D; *.iges; *.dxf)
CADkey 19 (*.prt; *.ckd)
Solid Works (*.sldprt; *.sldasm; *.slddrw)
Corel 12

Design/Prototyping Credentials:
*Full time design Engineers with over 70+ years combined experience
*Latest in CAD/CAM design technology (see below for info)
*Complete Electronic file transfer capability (see below for info)
*Electronic design library with industry design standards
*Complete prototyping and proposal drawing capability
*Full time sample makers with over 20 year combined experience

Amatech File Extensions Supported:
Solid Works – *.sldprt; *.sldasm; *.slddrw
Part – *.prt; *.sldprt
Assembly – *.asm; *.sldasm
Drawing – *.drw; *.slddrw
DXF – *.dxf
DWG – *.dwg
Adobe Photoshop – *.psd
Adobe Illustrator – *.ai
Lib Feat Part – *.lfp; *.sldlfp
Template – *.prtdot; *.asmdot; *.drwdot
Parasolid – *.x_t; *.x_b; *.xmt_txt; *.xmt_bin
IGES – *.igs; *.iges
STEP – *.step; *.stp
ACIS – *.sat
VDAFS – *.vda
VRML – *.vrl
3D Sprint – *.stl
Inventor Assembly – *.iam
Solid Edge – *.par; *.psm; *.asm
CADkey – *.prt; *.ckd
Add-Ins – *.dll
PLEASE NOTE: Lead times for quotes and prototypes may vary depending on the complexity of the product. We strive for 48-72 hour turnaround.