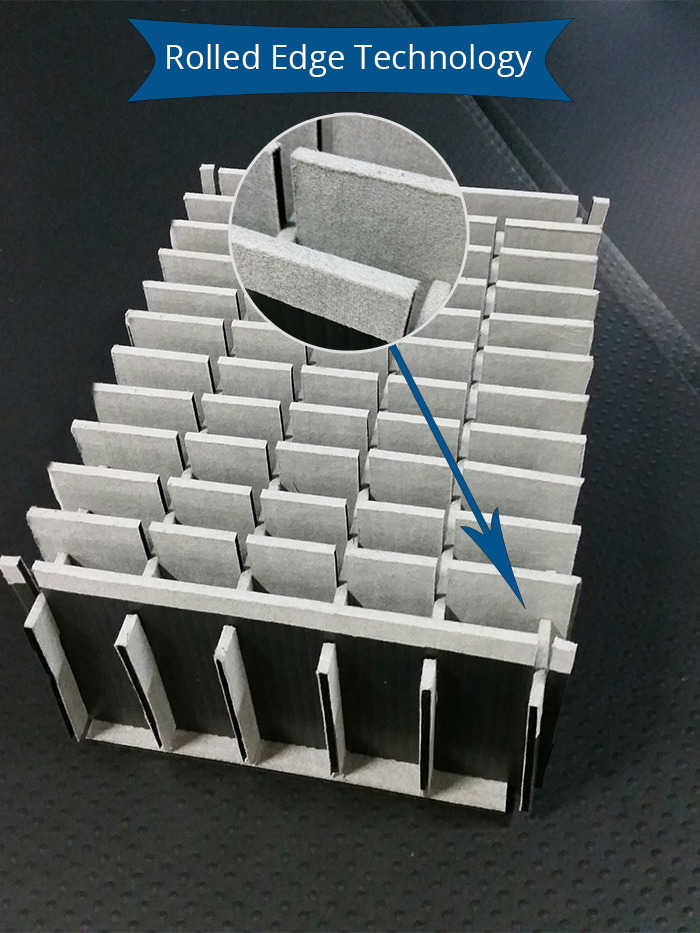 What is a laminate option and how is it applied? Well, we have several to choose from with a tried and true application process called Rolled Edge Technology. This process ensures products for all the industries we serve, remain blemish free. In work in progress applications (WIP), laminate provides a dual purpose. Protection for both the part and the operator's hands. Without a laminate, the plastic corrugated divider can be VERY sharp. When the operator is taking the part out of the packaging on the assembly line, the laminate protects them from potential injury. In the case of shipping a Class A part, a part that cannot be scratched or marred, it will provide premium protection during the rigors of transport from point A to point B. Not only does it provide protection, rolled edge laminate applications have many benefits. We will take some time to go over those in this post.
Our innovative rolled-edge technology can be used with a variety of laminates including Spuntex, Tyvek and Evolon, Brushed Nylon, Brown Suede, and XLPE foam. Our rolled edge technology carries the laminate over the edge of the plastic. The final result is packaging dividers (a type of dunnage) with sealed, smooth edges.
Another additional benefit is it provides the smooth removal of parts from the packaging. Again, during WIP applications, the operator will not lose any time due to a part snagging on an edge. Other processes, such as a sewn edge, could have this occur over the life of the divider. After repeated snagging, the sewn edge could come loose and the smooth edge the divider once had, deteriorates over time. This leads to another, customer-pleasing benefit. Rolled edge technology adds additional life to the divider. Since it's longer lasting, the investment is well worth it as the return on that investment for our customer increases.
In addition to automotive manufacturers and suppliers, our rolled-edge technology can be used for reusable, custom packaging across various industries, including pharmaceutical, agriculture, appliance, government, electronics, manufacturing, food, retail and more. Always feel free to reach out via live chat if you have any questions. One of our sales engineers is happy to help. You can also fill out the Ask a Question form - we will get back to you with the answer you need. To learn more about the laminate materials we have available click here, to see additional examples of rolled edge technology, visit our Dividers and Partitions page.